HOT PIPEWORK
Thermal imaging is a method of using infrared radiation and thermal energy to gather information about objects, in order to formulate images of them, even in low visibility environments. It is a type of technology that has built up a broad range of uses over the years. In particular, it has become widely used by plumbers to locate and identify hot pipe work within wall cavities, ceiling spaces and under floors.
How does thermal imaging work?
Thermal imaging is based upon the science of infrared energy (otherwise known as "heat"), which is emitted from all objects. This energy from an object is also referred to as the "heat signature", and the quantity of radiation emitted tends to be proportional to the overall heat of the object.
Thermal cameras or thermal imagers are sophisticated devices comprised of a sensitive heat sensor with the capacity to pick up minute differences in temperature. As they gather the infrared radiation from objects in a particular environment, they can start to map out an image based on the differences and inflexions of the temperature measurements.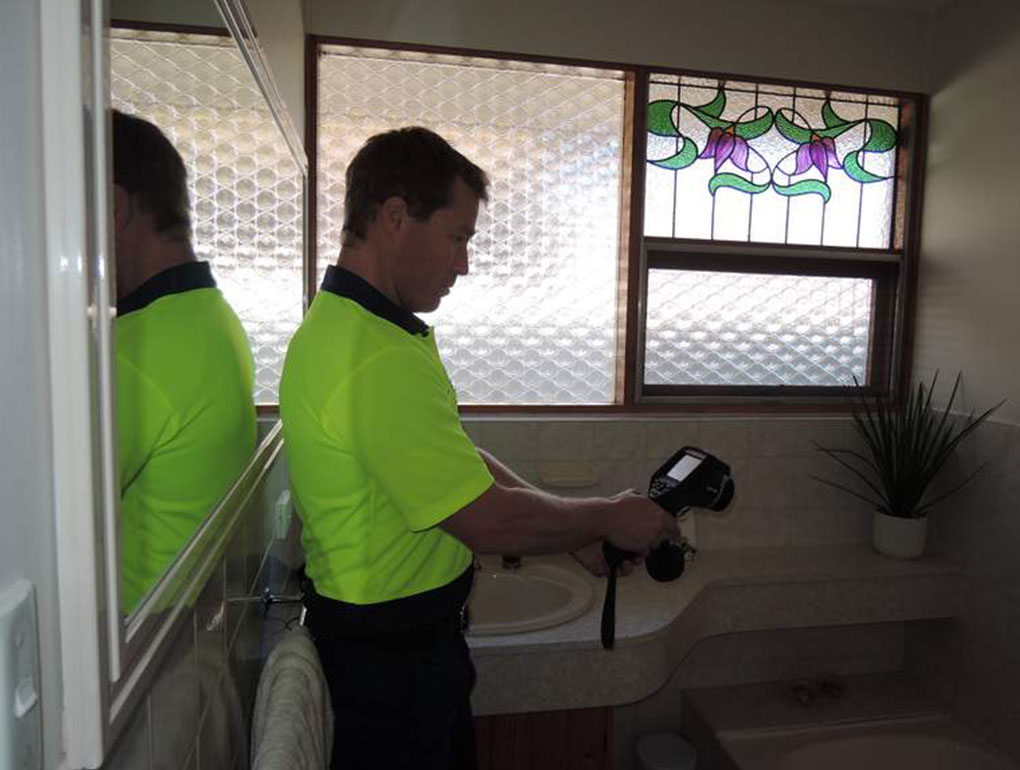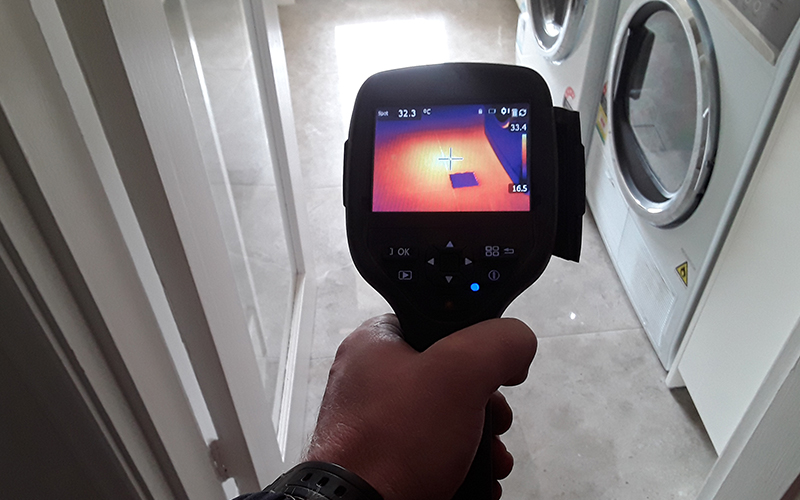 Thermal Imaging in Plumbing Applications
We use thermal imaging cameras to inspect sites of possible leaks, mainly through walls and pipes. Since the devices can be used at a distance, they are ideal for finding potential problems in equipment that is either hard to reach or might otherwise pose safety issues to workers. Our thermal imaging equipment allows us to measure and detect the changes in surface temperature that is being investigated. These temperature changes are not visible to the naked eye. By identifying surface temperature changes we can pinpoint leaks under concrete slabs, in walls, ceilings and behind tiled surfaces. Thermal imaging also allows us to track the extent of damage to the affected area, as often the leak is never at the point of the visible damage.
We use thermal imaging to assist with the location of the following:
Locate hot pipes in walls (plastic and copper)
Locate cold pipes in walls
Trace burst pipes in walls
Search for roof leaks
Locating floor heating wires in bathrooms
Testing water temperature
Locating dampness in walls
Leaking shower bases and bath seals
Testing solar hot water panels
Measuring pipe re-liner resin temperature
Locating blockages in aerial stack work
It is crucial to use a high-quality product to ensure that you detect and record accurate measurements. A big difference between different types of thermal imagers are the resolution and clarity of the images they provide. Priority Plumbing has invested heavily in our Flir Brand Cameras that provide our plumbers with accurate and concise information.